THE BANSHEE ZONE

Ported Big Bore Top End Installation

OK, time to put the big bore engine back together. First step is to clean the case gasket surface for any traces of the old base gasket. The
Vito's 404
kit comes with a one piece, port matched base gasket.


Now install the piston rings on the Power Pistons. The ring end gap must be lined up with the notch in the piston. Note both ring end gaps are positioned directly over the intake port windows on the piston.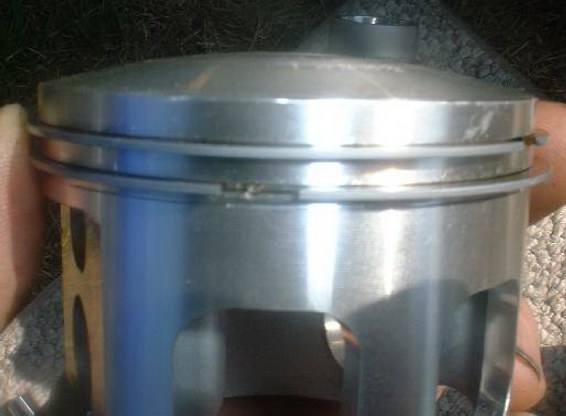 This top end install will be performed differently than the original "
top end rebuild
" page found here at The Banshee Zone. The original
top end rebuild
the pistons were attached to the connecting rods, then the cylinders were slid down over the pistons and bolted in place. This time I'll be inserting the pistons into the cylinders first, then I'll attach the cylinder\piston combo to the connecting rods. The main advantage of installing the pistons into the cylinders first is the ease of compressing the piston rings and maintaining the rings don't spin out of position. Here's how its done...... starting with the right\clutch side cylinder\piston. Flip the cylinder upside down. Insert the INSIDE piston pin circlip into the piston. Now.... with the piston rings and the "inside" piston pin circlip installed, insert the piston into the bottom of the cylinder, compress the 2 piston rings and make sure they don't spin from their marks on the piston. Once the piston is installed past both piston rings, gently flip the cylinder over and make sure the arrow etched in the piston dome is facing towards the front of the engine towards the exhaust pipes. Double check the arrow on top of the piston is facing forward !!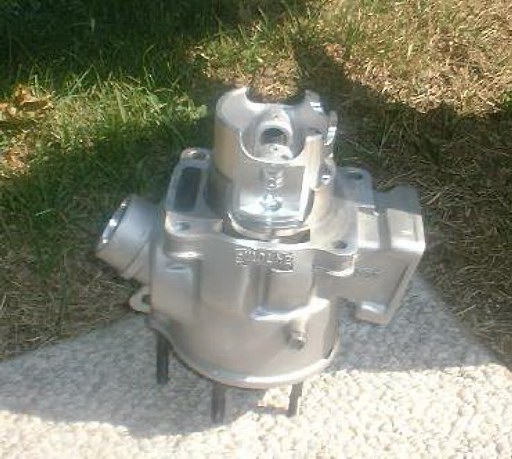 In this photo you can see the piston rings are aligned with the notches in the piston.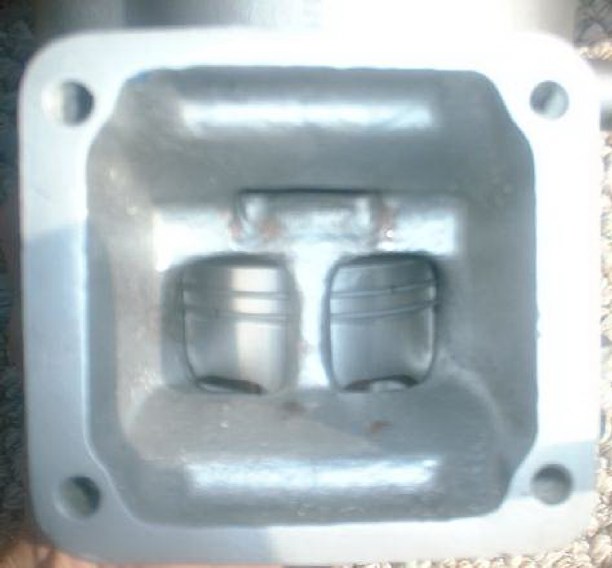 Here you can see how far the piston should be inserted.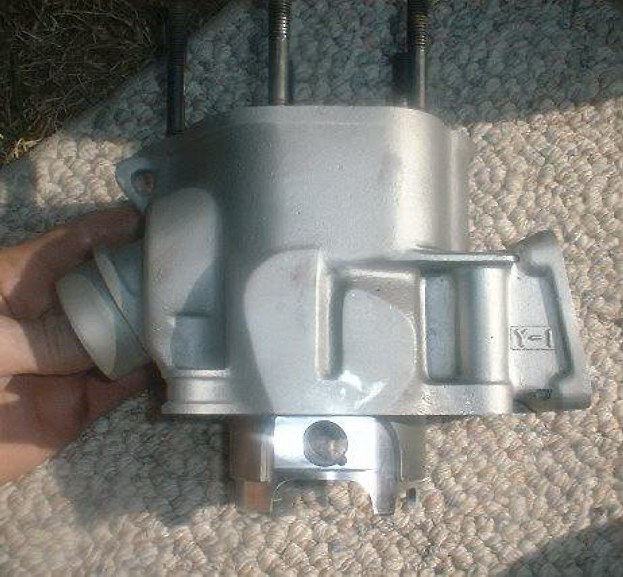 Now take your piston\jugg assembly and put it on the connecting rod. Insert your piston pin and then the piston pin circlip. Stuff rags around the open crankshaft to prevent the pin circlip from accidentally falling into the case.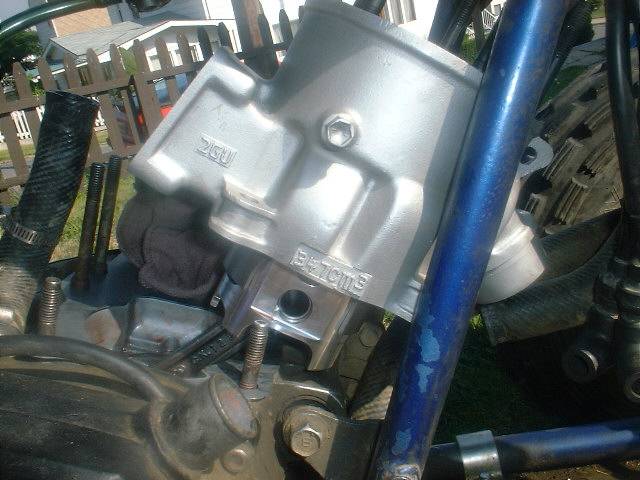 Make sure both piston pin circlips are seated correctly and slide the cylinder in place on the studs.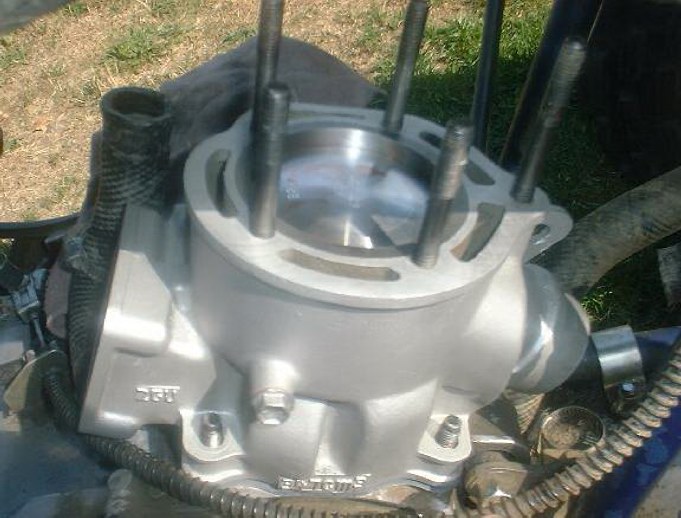 Now repeat the whole procedure for the other cylinder.


OK, now were cookin !! The head is bolted on to the juggs and rear coolant hose is hooked up. New stainless steel head and base nuts holds the new engine together. The head and base nuts are tightened in the correct sequence and gradually tightened to 20 ft-lbs.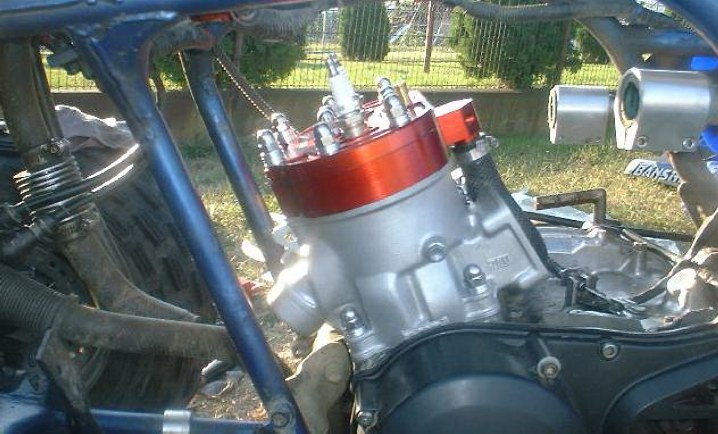 Couple more hoses and spark plug wires attached. New
V-Force reed cages
were added along with new intake boots. The boost bottle and the carbs are in place. One exhaust pipe is on.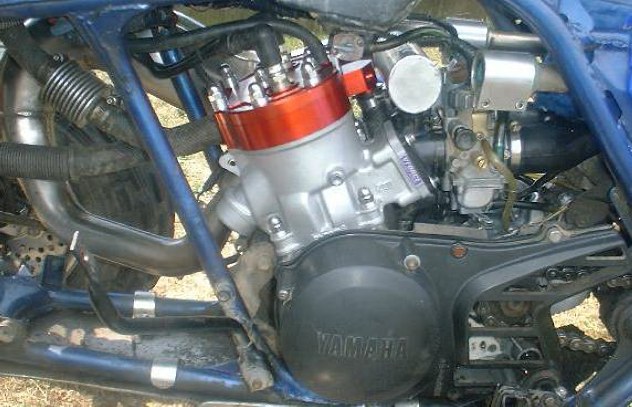 Here's the finished new engine. Its ready to rip.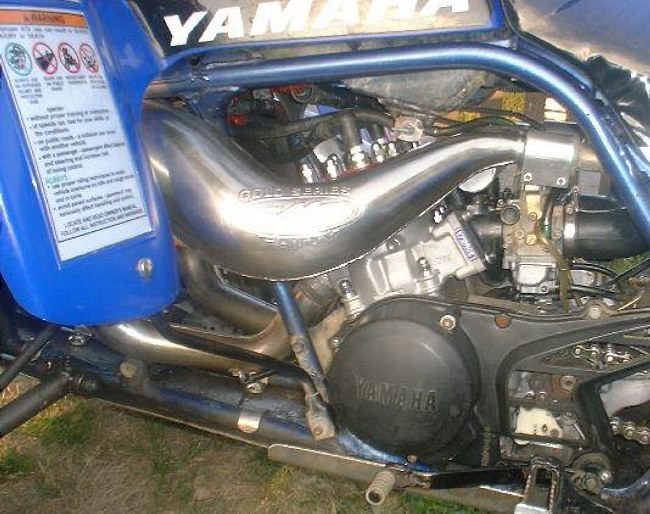 Finished. Watch for the upcoming
Delta V-Force
page and the pages dedicated to riding the ported 404.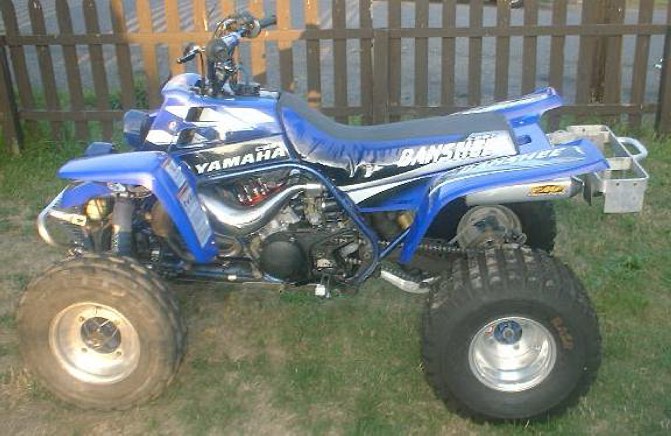 Ported Big Bore Top End Installation